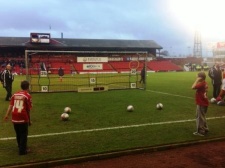 Organised in association with the Supporters Trust, TrustSport and Woody's Fish and Chips, the Tykes Target Challenge is the popular half time competition.  This competition involves two juniors, one Reds fan and another representing the visiting team who go head-to-head with five shots on goal on the pitch at half time.  The aim of the game is to get the ball through the targets on the net, scoring as many points as possible.  The winner is the highest scorer.
Both youngsters will a football signed ball by the respective teams. The winner will also receive a 'Tykes Target Challenge' t-shirt.  The signed mitre footballs, T-shirts and the netting have kindly been donated by TrustSport
The winning competitor will also win a voucher for Woody's Fish and Chips.
The highest Barnsley point scorers over the season will get the chance to compete in a special final at the end of the campaign.
The competition is only available to members of the Oakwell Juniors Supporters Trust and Toby's Junior Tykes.
E-Mail juniors@bfcst.co.uk for more information.
Tykes Target Challenge Sponsors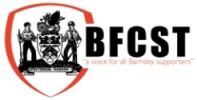 scrolling="no" frameborder="0″ style="border:none; overflow:hidden; width:100px; height:27px;" allowTransparency="true">

data-text="The Tykes Target Challenge" data-url="https://bfcst.co.uk/juniors/tykes-target-challenge/"
data-via="" >