Barnsley FC News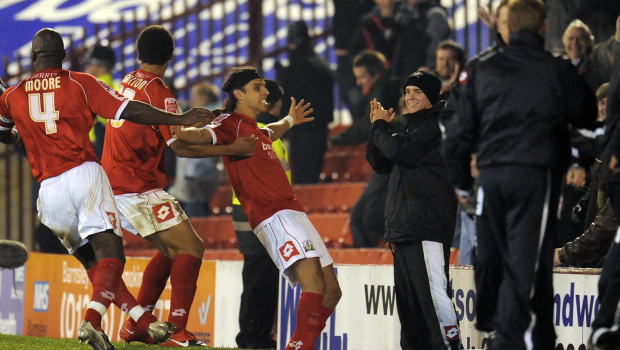 Published on June 19th, 2020 | by Ben Lockwood
0
Anderson de Silva speaks to BFCST!
Ahead of the Championship restart we caught up with much-loved Brazilian midfielder Anderson de Silva, about his time at Barnsley and what he expects from the Championship restart.
Here's 20 questions in 20 minutes with a popular and integral player from our famous FA Cup victory at Anfield in 2008.
BFCST: Where are you based now and are you still involved in football?
ADS: I am living in Uruguay South América. I'm working as an agent of soccer players.
BFCST: How did Simon Davey convince you to make the move to Barnsley?
ADS: There was a friendly match when I was playing for Everton, he made the request that I go to Barnsley for 30 days. I really liked his idea of ​​the game and his way of working. He was a very good coach.
BFCST: Was it easy making the move permanent after being on loan?
ADS: I felt so loved at Barnsley! It was my request to David Moyes, and I wanted to go definitively to the reds and luckily it happened.
BFCST: First impressions of Barnsley as a town?
ADS: It is a small city but with very kind people and very nice!
BFCST: What was Simon Davey like as a manager?
ADS: He was a coach very close to the players, he brought out the best in each player. I'd like to see him again as Barnsley coach.
BFCST: Were you and Denis Souza close friends during your time at Barnsley? Did it help having another Brazilian at the club?
ADS: We made a good friendship with Denis, he was a player who felt the colours of the club and left everything on the pitch every game.
BFCST: What was Denis' best qualities as a player and a teammate?
ADS: He was a player who defended very well in the one on one, he was good with his head, and he was very supportive of his colleagues.
BFCST: Do you stay in touch with him or any of the other Barnsley players?
ADS: I keep talking to him and others too like Boggy, Diego Leon, Mounir, Devaney and Bobby!  Some I follow on Instagram.
BFCST: Did it help having a heavy South American influence at Oakwell with players like Colace and Mostto being there during your time?
ADS: Simon was able to assemble a very good team with a mix of English and foreign players that worked very well. We all contributed a lot to that.
BFCST: What are your memories of the FA Cup win at Anfield vs. Liverpool and how did the celebrations compare to what you were used to in Uruguay or with Malaga? Did this game make the news back home for your family to see?
ADS: Every team that I played for there were important moments, but the Liverpool Match was a great moment, my son was 1 month old, my wife and baby were in Anfield with Barnsley fans watching the game. It was a great party!
BFCST: Do you look back and get frustrated at not playing vs. Chelsea and Cardiff in the FA Cup? Which injury was it that ruled you out?
ADS: It was one of the saddest moments of my life not being able to be available for these two games, we had a very deep team and we could beat any team.  My injury was a cruciate ligament in the game against Norwich away, but luckily I was able to get back to 100%.
BFCST: Was it the injuries that made a new contract at Barnsley not possible? Did you want to stay?
ADS: In fact Barnsley made me an offer of 3 more years for a new contract, I also had offers from other clubs such as Bristol city and with Nacional de Montevideo to Play the Libertadores cup. I had to accept Nacional's offer, but I will always have Barnsley in my heart. I look forward to recommending players to Barnsley as an agent if it is possible.
BFCST: What was your best Barnsley moment?
ADS: I can say that I had many good moments, each game was a challenge for me, and that the fans were always supporting me.
BFCST: What is your funniest Barnsley memory?
ADS: Many fun moments. I really liked the Christmas party with the costumes of the players.
BFCST: Who were your top three Barnsley teammates?
ADS: I had a good friendship with everyone! It was such a great group.
BFCST: How do you feel about football being played 'behind closed doors'?
ADS: We are living in difficult times due to the Virus. It is average to play without an audience but it is to protect the fans.
BFCST: What advice would you give to younger players and your players on how to approach a game with no crowd?
ADS: The players have to give their best, the young players have to play as simple as possible, 1 or 2 touches, they have to learn to play soccer without the ball, move and create spaces when the ball arrives and know that  do, so that football flows.  It is not the same to play with the empty stadium, but Barnsley is very complicated in the table and the players must try to get the best possible points.
BFCST: Barnsley haven't won a football match away to Queen's Park Rangers since 21st January 1950! Can you remember playing against QPR and at Loftus Road?
ADS: QPR is a club that has a long history. In my time as a player we played against them and they were very even games! We have to change history and be able to win at their stadium.
BFCST: Barnsley find themselves in a nine game 'mini season' trying to avoid relegation. As a player who was never relegated from the Championship at Barnsley, what advice can you give to the team?
ADS: I'm a fan of Barnsley and I speak like a fan! We have to try not to lose away and win games at home, but we have to think game by game. There are 9 finals but they have to think one by one.
BFCST: Can we count on your support from Uruguay for the last nine 'Cup Finals'? Will you try to be watching?
ADS: Of course, I'm one more red. I'm always looking out for Barnsley! I think if we get 12 points we stay in the championship.
scrolling="no" frameborder="0″ style="border:none; overflow:hidden; width:100px; height:27px;" allowTransparency="true">

data-text="Anderson de Silva speaks to BFCST!" data-url="https://bfcst.co.uk/anderson-de-silva-speaks-to-bfcst/"
data-via="" >