Meetings With BFC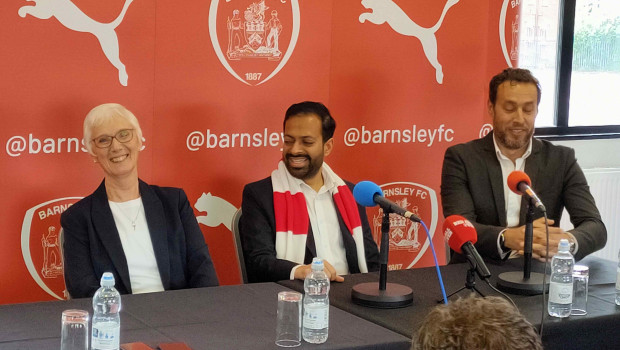 Published on June 1st, 2022 | by admin-bfcst
0
Meeting the Barnsley FC Board
Barnsley Football Club Supporters' Trust participated in the recent forums with the newly elected Board, including a Fan Forum with Neerav Parekh and a press conference with Jean Cryne, Neerav, Khaled and Julie Anne Quay.
Fan Forum with Neerav Parekh
The new Barnsley FC Chairman spent two hours on Friday the 27th of May, talking on a range of subjects, including his background, the failings of last season, the new Board, the search for a new head coach, the recruitment model and the focus on change for the coming seasons. The full forum is available on YouTube by clicking the link below
Fans Forum with the Barnsley FC Chairman
Red All Over provided a highlights package for those without the time to sit through the entire 2 hours of the fans forum:
Barnsley Football Club Press Conference 31/05/22
Representatives of the newly elected BFC Board held a press conference at Oakwell this afternoon. In addition to local journalists, BFCST had representation. A full recording of the press conference has subsequently been made available online :
In attendance:
Neerav Parekh (NP) – BFC Chairman
Jean Cryne (JC) – Director, newly elected to BFC Board
Khaled El-Ahmad (KEA) – BFC CEO
Andrew Clark (AC) – Marketing, Commercial & Business Director
Julie Anne Quay (JAQ), surname pronounced as 'key', was also in attendance via Zoom link. Due to logistical issues, she couldn't form part of the main press conference. Still, attendees, including BFCST, were able to speak directly to her via Zoom in separate face to face interviews following the conclusion of the main press conference.
A summary of the key points discussed during the meeting is provided below. This is not intended to be a full transcript of the meeting, as this is freely available to view online.
Board Changes
NP confirmed that the catalyst for the recent board changes was the expiry of Paul Conway's 4 year term as nominee for the Pacific Media Group's shareholding. The process to instigate this change had been in progress for some time.
NP also confirmed that there had been disagreements on the Board prior to these changes being made.
Shareholdings
NP and JC confirmed the current shareholdings in BFC Investment Company Ltd, the Hong Kong registered company which owns 100% of the shares in Barnsley Football Club Limited, as being:
Neerav Parekh 21.25%
New York group of Shareholders – JAQ nominee 20%
Cryne family (via Oakwell Holdings Limited) 20%
Chien Lee / Paul Conway 38.75% (NB: BFCST understands that the Lee / Conway shareholdings are 31.25% and 7.5%, respectively, although this was not specifically confirmed during the press conference).
Chien Lee / Paul Conway
NP confirmed that Chien Lee and Paul Conway retain all rights as shareholders of BFC Investment Company Ltd, but are no longer part of the BFC board. The BFC board make all decisions regarding the running of the company.
With regard to a potential purchase of Chien Lee's shares, NP stated that there has been no contact in this regard.
£1m Equity Injection
The initial injection of funds by shareholders is intended to assist with the general running costs of the club at the present time. Although this will not prevent BFC from having to sell players following relegation, it allows time for offers to be received which match BFC's valuations.
Should further funding be required, the Board will make the call on this at the appropriate time.
NP also confirmed that all shareholders have the right to participate in the equity issue in accordance with their existing shareholdings and that any shareholder who choses not to do so could see a dilution in their shareholdings as a consequence.
New Head Coach Appointment
KEA confirmed that they were down to a shortlist of 5 candidates, all of whom have experience of English football. An appointment is anticipated ahead of the start of full pre-season training on the 20th of June. The appointment will be as a Head Coach, rather than a Manager, but the overarching intention is for stability within the structure is to ensure that head coaching changes don't disrupt the entire club when they arise.
In response to queries on specific individuals, KEA confirmed that BFC had spoken to Michael Duff and Jimmy Floyd Hasselbaink as part of this process, whilst no discussions had taken place with Paul Cook.
Martin Devaney's role within the club is part of a wider review into the entire structure, as there is an ongoing intention to bridge the gap between the academy and the 1st team. This means that he won't necessarily transition back into his old role when a new head coach is appointed.
Transfer Activity
KEA confirmed that official bids had been received for some players, but none had been considered acceptable. Some players have made transfer requests and are involved in mutual discussions regarding their futures.
KEA clarified that the intention is for BFC to have one of the youngest squads in terms of average age, but this does not preclude the signing of older, experienced players within the overall squad.
NP confirmed that the equity investment potentially enables some incoming transfer activity (i.e. free transfers and low fee signings) without the need for sales to have taken place first. However, he wanted to be clear that players would need to be sold to balance the books for the forthcoming season.
Jean Cryne
Jean stated that she was happy to help following her appointment to the Board. However, she had never disappeared following the sale of the club. She wants the club to "get back to where we were" and feels that the right people are around her now to achieve this.
Future of Oakwell
NP confirmed that there was no intention to move away from Oakwell. Discussions were ongoing with the council to secure a longer-term lease in the first instance. There is a general aim to utilise Oakwell on "more than just matchdays".
Court Case
The legal dispute between shareholders is still ongoing, and, as such, it was not possible to discuss this in any detail.
Julie Ann Quay
BFCST's discussion with JAQ was the last in a series of 1 to 1 interviews she carried out following the press conference. Consequently, there was an attempt not to repeat obvious earlier questions from journalists, which will no doubt be reported on separately.
JAQ represents a group of New York-based investors, not all of whom have been named.
Following NP's comments at the Q&A that she had become a fan of the club since investing in it she confirmed that she had been a regular viewer of BFC games. She also admitted that she had stopped watching games towards the end of the season (which perhaps is the best possible reflection that she's very well aligned with the views of a typical supporter!)
JAQ is very keen to speak to supporters and learn how best she can provide relevant support as a board member and will look to facilitate how best to do this. This is an important aim for her. Although she brings a broad range of general business experience to the Board, she acknowledged that investing in a football club is different from investing in other business sectors within which her group of investors have an involvement.
JAQ is an Australian national, so, having agreed that cricket was off the agenda for discussion, I thanked her for her time in speaking to BFCST and for enabling the positive changes to the BFC board to have taken place. BFCST offered to work proactively with her in her aim to engage with supporters going forward.
scrolling="no" frameborder="0″ style="border:none; overflow:hidden; width:100px; height:27px;" allowTransparency="true">

data-text="Meeting the Barnsley FC Board" data-url="https://bfcst.co.uk/meeting-the-barnsley-fc-board/"
data-via="" >